Council and Manager's Office
Medford Township operates under the Council-Manager Form of government per the Faulkner Act (Optional Municipal Charter Law/OMCL) (NJSA:40:69A-81 et. seq.) The Council consists of (5) members elected by the public who serve at-large with staggered terms. Elections are partisan, and the Governing Body organizes on or about January 1st of each calendar year. One of the Council--chosen by a vote among all of the Council members--serves as the Mayor, who is merely the head of the Council and has no special privileges such as veto power. The Council exercises the legislative and policy power of the municipality.
Meetings: 1st & 3rd Tuesday of each month, unless otherwise specified, beginning at 7:00 p.m. at the Public Safety Building, 91 Union Street. Please click HERE for the 2023 Schedule of Meetings.
Click HERE for a link to Council agendas, which are posted no later than the Friday before each meeting date.
(*Every meeting allows for a General Public Comment Session. Comments may be on any subject matter relevant to Township matters and operations. Comments are limited to 5 minutes; and the Mayor & Council may comment afterwards at their discretion.)
Email Council by clicking on their name below: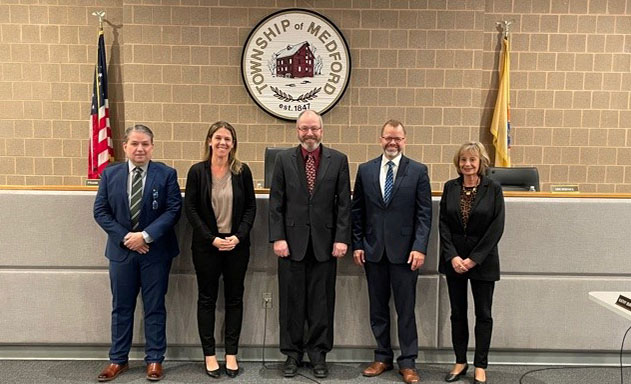 Katherine (Kathy) Burger, RMC, CMFO, CMR
The Council hires a Manager who serves as the Chief Executive and Administrative Official of the municipality. The Manager oversees the day to day administration and operations of the Township, prepares the annual budget, appoints and removes Department Heads, and attends Council meetings with voice, but no vote.
The Manager also serves as the Planning & Community Development official, and the Manager's Office also coordinates Open Space & Farmland Preservation, Business Recruitment and Retention, Community & Civic Relations, and Media Relations; as well as the Township representative to the Municipal Excess Liability Joint Insurance Fund (MEL-JIF).
The Administrative Code of the Township of Medford & the Land Development Volumes
**The following links will take you away from our Municipal Website:
Attention Home Owners Associations (HOAs)
The Township is in the process of updating its HOA contact database. Please e-mail Beth Portocalis with your respective Association point of contact information. Please include name, address, day & evening telephone numbers and e-mail address. Thank you.
Township Manager/Municipal Clerk
Katherine Burger, RMC, CFO (ext 334)
Exec. Assistant to the Manager/Open Space Coordinator
Beth Portocalis (ext. 330)
Hours of Operation:
Monday - Friday 8:30 a.m. - 4:30 p.m.